NEW: Gourmet Hot Chocolate Shops (Hudson Valley Magazine, February 2011)
NEW: Best of Hudson Valley 2010 (Hudson Valley Magazine, September 2010)
The Stuff of Life: Not Just Bread Alone at Rosendale's "Alternative Baker"
By Gregory Schoenfeld
The Shawangunk Journal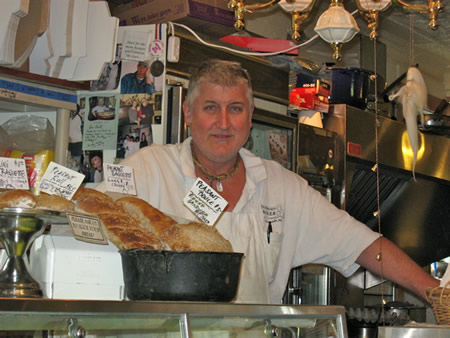 Clad in the classic white linens of his trade, Essell Hoenshell-Watson packs a shipping box full of freshly baked organic-spelt-vegan-sugar-free-blueberry muffins, bound for Florida. Since beginning his business in 1996, selling baked delectables from his home in Rhinecliff, the Culinary Institute graduate has cultivated a diverse and loyal following, in the Hudson Valley and beyond.
Inspired by the classic community appeal of European bakeries, as well as their time-honored purity of product, Hoenshell-Watson opened his first shop in 1997 in the Strand district of Kingston, before moving to Rosendale's Main Street in 2008. In that relatively small strech of time, The Alternative Baker has become a fixture that blends well with the bohemian feel of downtown Rosendale; but, make no mistake, it is the food that ensures that the front door's bells continue to ring.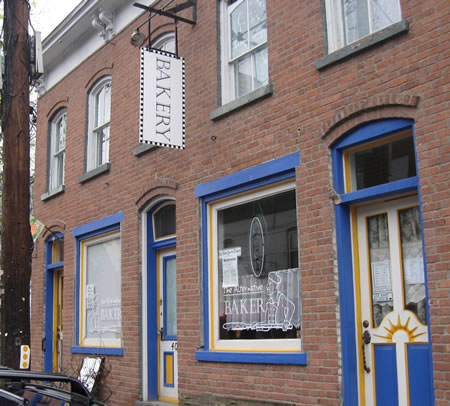 In the building that once housed Rosendale's fabled tavern, "The Well", one can always find an expectant customer standing before the glass display cases, deliberating over their choice of freshly-baked indulgence. A tireless advocate of the fruits (or scones, or lemon-velvet cakes, or baguettes) of his labors, Mr. Hoenshell-Watson is more than happy to elucidate on the process that sets his product apart. The key ingredients: patience, and purity. "What your tasting is time," Hoenshell-Watson exclaims proudly, speaking of a carefully methodical process in which he allows his bread to rise much more slowly that many industrially-minded bakeries, creating a richer, more expansive, and more easily digestible and satisfying loaf.
Of no less importance is the baker's commitment to natural ingredients, chief among them locally milled, unbleached and unbromated flour. Bromated flour, most often enriched with the potentially carcinogenic ingredient potassium bromate, allows for a more manageable and cost-effective dough, prevalently used in the United States. "In Europe [and Canada, as well], they have purity laws which prevent the use of these flours," Hoenshell-Watson warns. "It creates an inferior product, both for health and for flavor." And the difference is evident in each and every lovingly crafted item The Alternative Baker has to offer.
The Alternative Baker is at 407 Main Street, Rosendale (online at www.lemoncakes.com), and is open from 7am - 7pm, Thursday through Saturday, and from 7am - 5pm, Sunday and Monday. The fare, and the atmosphere, are well worth the visit.
Reputation Cemented: Everything's Coming Up Rosendale
click title link above for article
Chronogram Magazine, July 2009 (featuring the Alternative Baker)
Westchester Section -- The New York Times
Published: September 23, 2006
So Lemony, So Sweet
In this historic backwater, where the meandering Rondout Creek meets the mighty Hudson, Essel Hoenshell-Watson runs a tiny shop called the Alternative Baker.
Kingston's claim to fame is that in 1777 it became the first capital of New York State and was subsequently burned to the ground by the British; Mr. Hoenshell-Watson's claim to fame is the delectability of his lemon velvet cakes. Made from a 1930's recipe, the cakes live up to their name; their velvety interiors are deeply perfumed with lemon and protected by a sugary coat of armor. Baked in fluted molds, they have the look of small, beautifully formed sandcastles.
Not as dense as many lemon cakes I've sampled, Mr. Hoenshell-Watson's version has a particularly fine crumb that allows very thin slices to remain intact. And because its glaze seals in moisture, the cake is a real keeper, still delicious days after it leaves the bakery.
A lemon velvet cake can live many lives: as a companion to a midmorning latte or an evening snifter of Grand Marnier or the groundwork for an English trifle. Large bundts are $16 (shipped within the tristate area, $30); small bundts are $15; loaves, $5; and bites, $.95.
With its kitchen open to viewers, the Alternative Baker is something of a theater, with plenty of flour and sugar in motion. The screen door slams regularly, and customers cluster around the glass-fronted display case.
On the morning I visited, Mr. Hoenshell-Watson had made mixed berry scones ("They keep us in business," he said), vanilla butter loaves embedded with peaches, assorted foccacias and three wedding cakes the size of a snare drums. But the rustic tart of frangipane and local plums was reason enough to veer off the New York State Thruway.
The Alternative Baker, 35 Broadway, Kingston; (845) 331-5517 or www.lemoncakes.com.
ALICE GABRIEL
The Rise of Artisanal Baking
by Anitra Brown
Originally appeared in Hudson Valley Magazine
It's 7 a.m. and Essell Hoenshell-Watson is already pushing trays of sticky buns into his stand-up convection oven. The small bakery in Kingston's waterfront district fills with the redolent scent of cinammon and caramelized sugar, and by 8 a.m. regulars are enjoying the sensual pleasure of tearing off warm pieces of those gooey rolls, the taste and texture intensifying as they come nearer to the pecan-studded center. Such a delight, for just $1.75.
While the early morning crowd enjoys blueberry crumb muffins and buttermilk scones, Essell gets the soup going for lunch. A fellow baker starts the peasant breads and foccacias, baked with some savory combination of roasted red pepper, dried tomatoes, olives, scallion and artichoke hearts. Then Essell constructs a special order hazelnut ganache, giving the coffee buttercream icing a final dusting of powdered sugar in a pretty pattern.
Gradually the display case fills with lemon velvet cakes, oatmeal raisin cookies and loaves of fresh-baked bread. What Essell hopes for now is that they sell out by the end of the day, because what doesn't sell gets bagged or turned into crumbs for a linzer torte. And tomorrow he starts his labors anew, baking from scratch, using only what he calls "real" ingredients.
"We use fresh butter, fresh eggs, fresh milk," he says. "And I don't use bleached or bromated flours, which take away the heart of the flavor." Fresh butter? Milk? Eggs? Aren't these the standard ingredients for any bakery? Alas, no. Most bakery muffins are scooped out of joint-compound-sized buckets of frozen dough, Essell says. He worked in a few of those bakeries and found it a depressing experience. Donuts and cakes were made from big bags of mix with powdered egg and powdered milk -- just add water! "Butter cream" cakes had icing made from vegetable shortening and sugar. And those endless trays of cookies that are so dazzling in their multiplicity were simply emptied from boxes . "In the traditional American bakery, everything looks great in the case and then you taste it. Yuck!" he exclaims.
And even with our rising culinary standards, not everyone is sophisticated enough to recognize quality baked goods. "Some people walk in and say, 'Is this it?' I want to say, 'Do you know how much work it took to make this?' They don't understand the concept of our bakery: make everything fresh in the morning, and sell out by the end of the day. Americans think you have to have 1,500 choices in a bakery. It's something in our psyche."
But that psyche is slowing shifting as the country -- and the Hudson Valley -- becomes home to more new-style "artisanal bakers" with an expertise in old world techniques. At last, we can enjoy what Europeans take for granted -- handcrafted bread, baked daily. Tom Gumpel, associate dean of baking and pastry arts at the Culinary Institute of America in Hyde Park, says the movement towards "artisanal" breads began in San Francisco, moved north to Napa and Sonoma Counties, and then spread into the nation's major cities -- New York, Chicago, Atlanta. "Now we're starting to find good bakeries throughout the country, and in certain counties, there might be a couple of good bakeries. "
As the home to the CIA, which trains many of these new bakers in their craft, the Hudson Valley is at the center of much of this growth. "Applications for our baking and pastry program have increased by 86% over the last two years, and there is usually a three month wait to begin," says Dennis Craig, director of admission. We are also lucky to have graduates who fall in love with the area and stay here. Essell is one example of that. And Daniel Leader, a pioneer of the artisinal bread movement who opened Bread Alone near Woodstock back in 1983, is another CIA graduate.
The CIA also recently opened the The Apple Pie Bakery Cafe to train students in all the aspects of running a bakeshop. It offers a huge array of baked goods: croissants, cheese danish, apple walnut sourdough bread, summer fruit-mascarpone tartlet, strawberry-honey napoleon, lemon bombe, as well as its trademark apple pie. It also offers soups, salads, and sandwiches and wood-fired pizzas, which can be taken out or enjoyed in the casual dining room.
The Rock Hill Bakehouse in South Glens Falls, about thirty miles north of Albany, makes a sourdough that was hailed as the best in New York City and a range of breads, including pumpernickel, marble rye, sourdough rye, paison jalapeno cheddar, and eight-grain. "We have plenty of customers who have been to Europe and understand what a good loaf of bread is," says Matt Funiciello, who owns the bakery. The bakery also has a healthy mail order business, shipping out loaves on Monday, Tuesday and Wednesday via United Parcel Service's two-day shipping. "We recommend you order a minimum of four loaves, because there's a shipping charge of $7.50," says Funicello. The bread is wrapped in paper bags, which maintain the integrity of the crust, but they include plastic bags for freezing.
Michael and Wendy London, who helped start Rock Hill Bakehouse, have opened a bakery in Saratoga Springs called Mrs. London's. Their specialty is an extra-strong sourdough they call "firebread", but they also sell rye, chestnut and country white breads, as well as a range of pastries.
The Hudson Valley is also home to one of the worlds' great bakers. Gumpel of the CIA was part of a three-man American team who won the Coupe de Monde de la Boulangerie, an international artisan bread baking competition held every three years in Paris, France. The defending champions from France came second, followed by the Japanese. "It was highly unusual for an American team to win," says Gumpel. The event got quite a lot of media coverage, and helped draw more students to the CIA's baking and pastry program, he said.
But students who are drawn in by the glamour of television shows and international events need to think twice, says Amy Quazza, chef instructor, head of the bread program for the French Culinary Institute in New York City. "It's very rewarding work, but it's a blue-collar job," she says. "You're mixing batches of dough that are 100-200 pounds, and moving this weight around all day. You're on your feet for eight hours or longer. And everyone wants their bread first thing in morning. It's for people who are not afraid to work." And the wages? You might start out at $8 to $10 an hour. "They are not what we read about with the dot.com companies."
Essell would second that. At six foot two inches tall, he fulfills at least two of the three qualifications for a baker: "big enough to carry bags of flour, strong enough to carry bags of flour, and dumb enough to carry bags of flour," he jokes. "I'm committed to ten to twelve hours a day on my feet. Nobody should have to work this hard in a free country."
Now 44, Essell is a classic career-changer who left the art gallery business in southern California to pursue a culinary career. "Entreprenuership was my goal, and I knew it would be easier to create my vision without all the overhead of a full-scale restaurant -- china, linens, labor." The downside of a bakery/cafe, compared to a restaurant, is the small ticket average. "A scone is $1.50 and a cup of coffee is a dollar," he says. "You have to sell a lot of muffins to make what you make on a steak."
He entered the Culinary Institute of America's two-year baking and pastry program, and fell in love with the Hudson Valley while he was attending school. "My dorm room was right on the Hudson River, and when I went to Santa Barbara for an externship, I missed the drama of the seasons here." He came back to Hyde Park to finish his schooling and ended up living in a charming little house in Rhinecliff . "It wasn't too far from a creek, and I could watch the sun set over the river." When school was over, he decided to stay in the region.
After a few unsatisfying experiences working in other bakeries, started "The Alternative Baker," a wholesale business supplying breads and baked goods to health food stores. "I enjoyed the challenge of tweaking recipes so that they could be free of sugar, wheat and dairy, and still taste good," he says.
He was working out of Saugerties, but lost his space. He found another location in Kingston's waterfront region, where he, almost by accident, became a bakeshop "I was told that to take this space I had to operate as a retail business, which turned out not to be true. But I opened my doors and quickly went from 90% wholesale/10% retail to the other way around. I do very little wholesale anymore."
Essell kept the name "The Alternative Baker," but now offers more classic baked goods than sugar/wheat/and dairy-free products. "I'm an alternative person -- and an alternative to Diesting's, the big bakery in town." He has garnered a loyal following of neighborhood folks and people from nearby communities willing to make the trip for hand-crafted baked goods. He enjoys getting to know his customers - and watching them get to know each other. "A lot of people have met each other here," Essell says. "Bakeries seem to become a nexus for the neighborhood.
And this is exactly what he had in mind when he dreamed of his own little bakeshop. "This is my bread, and this is my body," he muses. "It's a small return for an incredible amount of work, but I'm doing the absolute best that I can do. And that's very satisfying.